Issue 13: Mongolia's response to COVID-19 sits at the nexus of two threats
How did Mongolia contained Coronavirus despite sharing a border with China?
The COVID-19 pandemic has challenged global policy makers in ways unheard of in most of our lifetimes. This newsletter provides short, accessible briefings on as many of the relevant policy challenges as possible, and upcoming briefings include a look at federal indigenous policy; where political journalism has succeeded (and where it has failed us); and a look at the Afghanistan peace process and the pandemic.
Today's briefing is written by Enkhjin Zorigtbaatar (EZ), a graduate student at the Max Bell School of Public Policy who is riding out the pandemic in Montreal.
Mongolia's initial response
Mongolia and its southern neighbour share a 4630 km long international border, the 4th longest in the world. China has more than 81,000 confirmed COVID-19 cases and 3,295 deaths. Despite its geographic and socioeconomic proximity, how come Mongolia has only 11 cases cases?
Mongolia declared a state of emergency on January 17th. A week later, borders with China were closed. Travellers were screened for symptoms, educational institutions were closed and social gatherings were prohibited , including Lunar New Year celebrations. 
The decision to close the border wasn't taken lightly. The Mongolian economy is overwhelmingly dependent on trade with China. The majority of Mongolians live in the capital city, Ulaanbaatar, where the centralized healthcare system is ill prepared for a pandemic.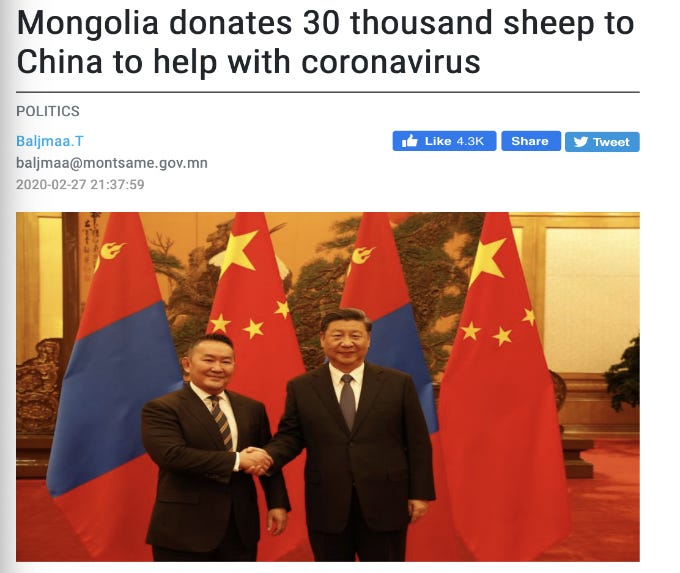 On February 27, the President of Mongolia, Kh. Battulga, was the first head of state to pay an official visit to China during this crisis. Following ancient custom, he stated that "a needle in need is of greater use than a camel in prosperity." On behalf of the Mongolian population, the President donated 30,000 sheep to China. After his visit, he went into self-isolation.
On March 2, a French national who arrived in Mongolia through Moscow tested positive for COVID-19,  the first confirmed case in the country. Preventative measures were drastically increased because this patient did not self-isolate upon arrival and came into contact with more than 120 individuals who were subsequently put under medical observation.  
From March 15-19, Mongolia repatriated citizens from South Korea, Japan, Germany and Turkey.. Anyone coming to Mongolia is now automatically placed in government isolation centres for 14 days.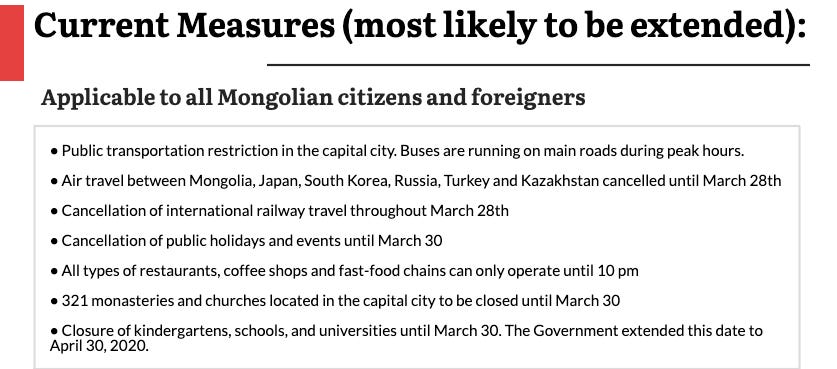 Key policy decisions: 
Education: all classes for public school, grade 1 to 12 are broadcast on public television. 

Lunar  New Year: Learning from China's mistake, Mongolia banned all Lunar New Year  celebrations, urging citizens to practice social distancing and use social media to connect with loved ones for the occasion.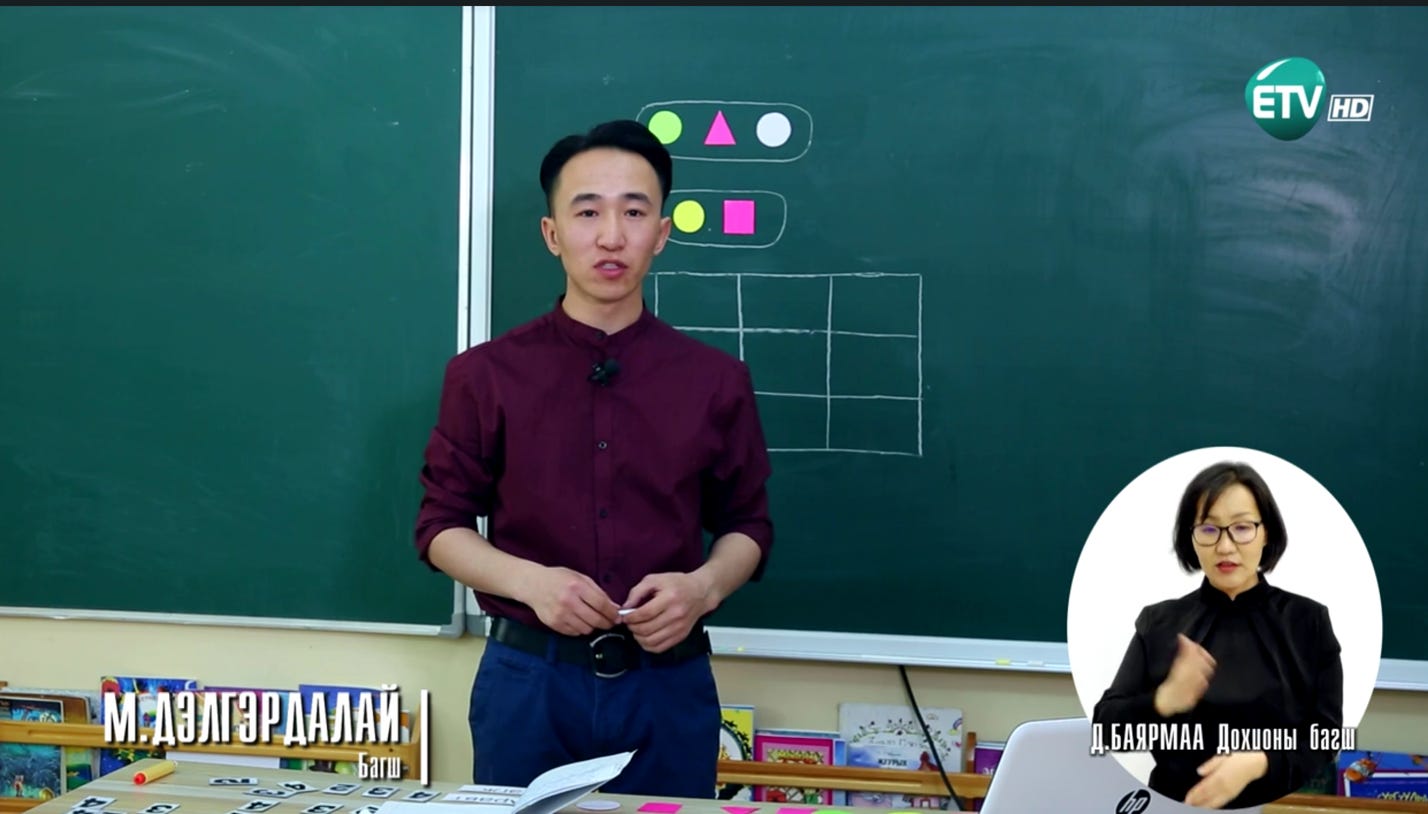 (Grade 5, Mathematic class)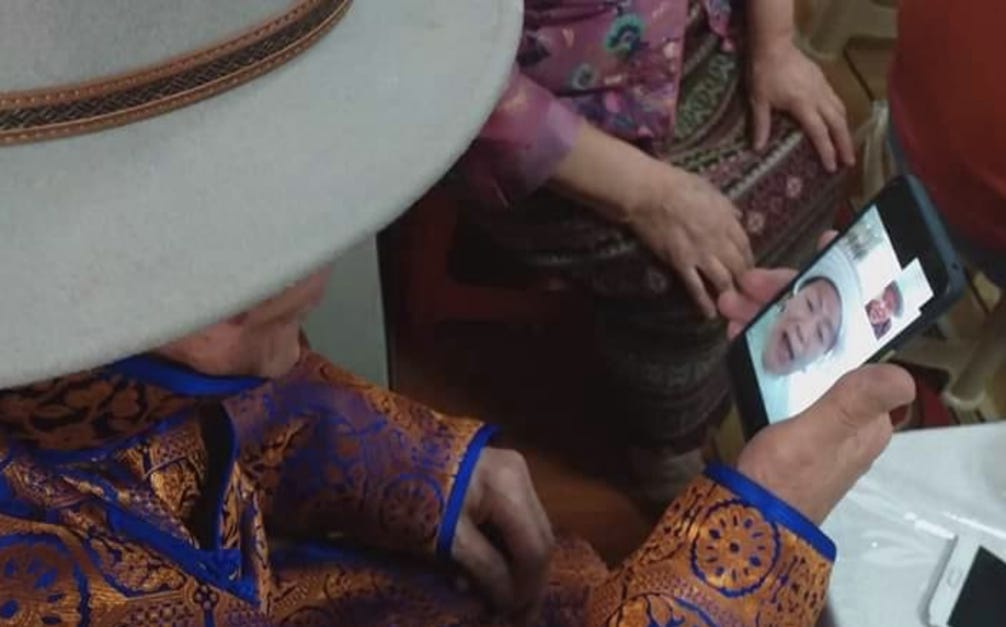 (Elders dressed in traditional clothing greeting each other through video chat to  respect the guidelines from the authorities.) 
Government Action:
On March 27, Mongolia announced fiscal measures valid until October 1, 2020: 
All companies are exempt from paying social insurance contributions .  

Personal income tax will be waived . 

Entities with revenues of less than MNT 1.5 billion (CDN $750 000) are exempt from paying corporate taxes. 

For 3 months, the government will pay MNT 200,000 (CAD $100) monthly to essential workers.

A 3% interest loan, totalling MNT 300 billion (CAD $150 million), is granted to national cashmere companies.to directly benefit 233 thousand herding families.

For 3 months, the monthly 'Child Money' allowance of MNT 20,000 (CAD $10) to children aged under 18 is raised to MNT 30,000 (CAD $15).  

Fuel prices are cut by MNT 300-400 ($1,5 - $2CAD), starting April 15.
The President of Mongolia called for six drastic measures:  
Cut non-essential spending related to the  upcoming elections to make more money available for the coronavirus response. 
Postpone the June 24, 2020 Parliamentary elections to save on election expenses. 
Establish the 'Anti-Crisis Fund' to support factories, small and medium enterprises and self-employed people and develop rules and regulations for the fund's spending.  
Develop an action plan to maintain the people's standard of living, with a focus on  children, reduce unemployment and ensure an uninterrupted supply of basic necessities.  
Convene the National Security Council and establish a small committee of scholars and experts to develop and implement crisis response plans.
Centralize public administration. The President made clear that this does not imply an endorsement for dictatorship, but it is a necessary step to take.
*On March 27, the Prime Minister rejected these propositions from the President. 
Mongolia, a developing country with scarce financial resources, is doing everything in its power to protect their economy with a goal to find the right balance between protecting people and mitigating an economic recession. 
The country's response is complicated because the President's Democratic Party stands in opposition to the government and parliament represented by the Mongolian People's Party.  Tensions are high because of the June elections taking place under Mongolia's newly amended constitution which grants the Prime Minister-elect greater power in future legislatures. It remains to be seen if these constitutional amendments will stream-line decision making or concentrate more power in the hands of one individual. 
The Mongolian government took prescient but imperfect steps to contain the virus early on and the fallout from fiscal policy and governance decisions remains to be seen. One thing is certain:  Mongolia and its people are pulling out all the stops to remain resilient together. (EZ)


____
Policy for Pandemics is produced and edited by Andrew Potter and co-edited by Charlotte Reboul and Paisley Sim (bios here). If you have any feedback or would like to contribute to this newsletter, please send an email to andrew2.potter@mcgill.ca